Editor's note: This is a first-person account of one runner's experience with a sickness presumed to be the coronavirus and should not be interpreted as a guideline for others. For the most up-to-date information, check your local health department and trusted news outlets, the Centers for Disease Control and Prevention (CDC), NHS and World Health Organization (WHO) regularly.
Like many other runners out there, I didn't think the coronavirus would affect me until it did.
At first, the biggest impact the pandemic had on my life was by canceling the spring races I had signed up for. But other than that, life remained somewhat the same. As a packaging engineer, I'm fortunate to be able to work remotely from my apartment in Lebanon, New Hampshire. Starting March 14, three days after the coronavirus was declared to be a global pandemic by the World Health Organization (WHO), I began working exclusively from home and only leaving the house to run and buy groceries.
Over the next week, I continued to train as usual. I was planning to do the Cherry Blossom 10-Miler and the Brooklyn Half Marathon. For the first three weeks of March, I ran between 60 and 65 miles per week, which was the same mileage I had done before racing the California International Marathon last December (I finished with a PR of 2:52:51). The only difference I made in 2020 was adding more hills to my runs, which made them harder than usual. Looking back now, I might have been working a little too hard in early March, which might have contributed to my overall fatigue and compromised my immune system.
Around 8 p.m. on Sunday, March 22, I started feeling sick. I had just finished dinner when my throat started feeling sore, as if I had something stuck in it. I figured that I had just eaten dinner too fast and was having indigestion. Then the next morning, I woke up to a scratchy throat again, and I felt extremely tired. I usually take Mondays off anyway, so I didn't run and just relaxed at home, thinking it would subside by Tuesday. But the next day, my sore throat and fatigue were even worse, and I started coughing and feeling nauseous.
At this point, on March 24, I decided to stop running for a while to focus on healing. Under normal circumstances, I probably would have run through my sickness, but I was hyper-aware of how serious the coronavirus is from what I had read in the news, and I also felt that there was really no point in training hard with races canceled for the time being.
After five days of resting at home, things got a lot worse. After lunch on March 27, my chest tightened up, and it became very difficult to breathe; it felt like I was living at altitude. I looked up the symptoms of the coronavirus, and found that I was experiencing most of them: cough, shortness of breath, chest tightness, body aches, sore throat, nausea, loss of taste and smell, and fatigue. The only symptom I didn't have was a fever.
"I felt deathly sick at that point, but I still didn't need a hospital bed."
Unfortunately, I wasn't able to be tested for the virus, because I didn't meet New Hampshire's testing criteria. When I called the screening hotline, I was told that unless I was a healthcare worker, had made contact with a confirmed coronavirus case, or was being admitted to the hospital, I couldn't be tested.
I spent the week of March 27 through April 3 on the couch. Since my chest first began tightening on March 27, it never let up, making it challenging to take a deep breath. On March 29, I remember eating scrambled eggs and toast, and then gasping for breath for 30 minutes afterward. I felt deathly sick at that point, but I still didn't need a hospital bed. I called my doctor on April 2 and received a prescription for an inhaler, which helped my breathing significantly.
Though the stubborn runner in me wanted to go for a run during this week, any exercise was out of the question, since I hardly had the energy to get up to cook and get dressed. Along with the shortness of breath, the coughing, sore throat, and nausea continued as well, making it really hard to talk to people on the phone. Because I live alone, it was a pretty lonely and scary time.
Thankfully, I could distract myself a bit during this awful period with Netflix and video games. I love trashy TV, so I binge-watched Love is Blind. I also played Call of Duty with my friends, which helped me feel less isolated.
I began to feel better on April 6, more than two weeks after experiencing my earliest symptom. My chest had loosened up a bit, and I had more energy. I was still cautious about running again, though, so I decided to wait to run until the following Saturday, April 11. On that day, I ran for 20 minutes at an 8:00 pace. I felt like I was dying, but then again, I hadn't run in about three weeks. Later that afternoon, I felt like I had done my hardest workout ever that morning. I was totally wiped out.
The next day, I tried running again, this time at a slower pace on the flattest loop I knew. I ran for 20 minutes at 8:50 pace and felt a little better. I didn't have a hard time breathing during the run. Still, like the day before, I was knocked out again later that afternoon. I felt the same sort of nausea and fatigue that I have after a marathon. It seemed like my legs were functioning as normal, but my lungs couldn't keep up.
After two more weeks of symptoms ebbing and flowing, I finally began running somewhat normally. From April 23 through April 27, I ran for 20 minutes each day. I was nominated by one of my friends to do a virtual 5K, so I clocked one in 26 minutes, which felt so hard. (For comparison, I ran 17:31 at the 2017 BAA 5K).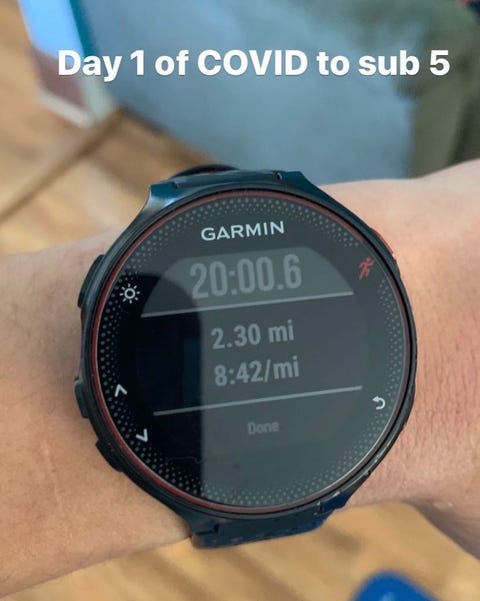 Xufeng Pan set an ambitious goal to break 5:00 in the mile this summer as a way to fundraise for coronavirus relief efforts.

Courtesy of Xufeng Pan
As of April 29, I've begun feeling more like myself. I appreciate each run I do, even if it's not the same as before. My big goal this summer is to break 5:00 in a timed mile, which would be a five-second PR for me. I have a lot of friends who have told me they'll donate a certain amount of money to coronavirus relief funds if I break 5:00, so I agreed to match each donation up to $800.
I'm excited about gaining strength on the track again—and training my lungs to breathe better. I know my lungs are still returning to their full capacity, but I have no idea how damaged they are. As a runner, that's one of the scariest parts of all of this: I don't know how long it will take for me to recover from it.
This experience has taught me to not take my health for granted. Although elderly people are more at risk for developing a severe illness from the coronavirus, young, fit people can still be vulnerable, especially those with underlying health conditions. The problem is, you might not know that you have an underlying issue. For instance, I have a common heart condition called minor regurgitation, or leaky heart valves. There's a chance that my sickness was worse because of this condition, but no one knows for sure.
So for all of the runners, like me, who think that their robust fitness will make them immune to the coronavirus, don't let your guard down. Be safe, stay healthy, and remember that taking it easy right now is not a bad thing.
The information in this story is accurate as of the publication date. While we are attempting to keep our content as up-to-date as possible, the situation surrounding the coronavirus pandemic continues to develop rapidly, so it's possible that some information and recommendations may have changed since publishing. For any concerns and latest advice, visit the World Health Organisation. If you're in the UK, the National Health Service can also provide useful information and support, while US users can contact the Center for Disease Control and Prevention.
From: Runner's World US
Source: Read Full Article