The Centers for Disease Control and Prevention currently list three main systems of COVID-19.
The World Health Organization has also further described this cough as a "dry" cough.
But what, exactly, does having a dry cough entail? What does it feel like—especially when compared to other coughs? How do you know if you really have a dry cough?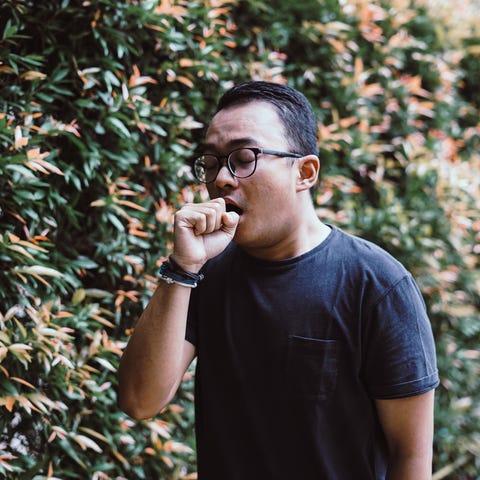 Kadek Bonit Permadi
To help answer these questions, The University of Pennsylvania Health Systems offered one of their top experts: Vivek Ahya, M.D., an associate professor of Pulmonary Medicine and Vice Chief of Clinical Affairs for the Pulmonary, Allergy, and Critical Care Division at Penn Medicine.
Allow Dr. Ahya to, ahem, clear up all your questions.
What are the main differences between a dry cough and other types of coughs?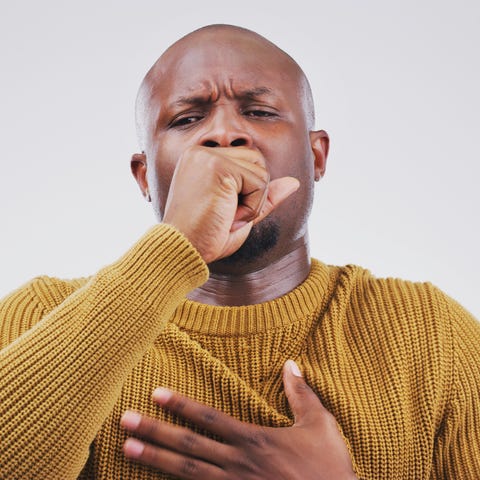 PeopleImages
"A dry cough is one that does not result in production of mucus or phlegm," says Dr. Ahya. "This is in contrast to a productive cough which results in mucus production. Both types can be the result of infections."
So you could call a cough that results in the production of mucus or phlegm a "wet" cough, but that's kinda gross.
How do I know that what I have is a dry cough? What does it feel like? Is there a way I can check?
This is pretty simple, Dr. Ahya says: "If you are coughing but not spitting out mucus, than you have a dry cough."
What could a dry cough be a symptom of?
This is more complicated.
"A dry cough, one in which there is no production of mucus, can be due to many causes," says Dr. Ahya, "including respiratory viral infections, allergens like pollen, animal dander, smoke, pollution, heart burn, chronic lung disease, certain medications, etc."
So while knowing if you have a dry cough is straightforward, the reasons you may have a dry cough aren't. Which brings us to another important question…
If someone has a dry cough, should they get tested for COVID-19?
"Current recommendations are that folks with a fever, new dry cough and/or an increase in shortness of breath should contact their doctor regarding COVID-19 testing," says Dr. Ahya.
Getting a test is currently challenging, Dr. Ahya acknowledges, but you can read our guide on coronavirus testing here.
Dr. Ahya also recommends the American Thoracic Society and CDC resources for more information about COVID-19.
Source: Read Full Article