Although less common than other subtypes of systemic sclerosis (SSc), systemic sclerosis sine scleroderma (ssSSc) makes up more than 8% of SSc cases and "should not be neglected," according to a new study.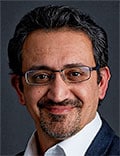 Dr Dinesh Khanna
"There's a perception that people with sine scleroderma — ie, no skin involvement — tend to have a much milder disease," Dinesh Khanna, MD, MSc, co-author of the study and the director of the University of Michigan Scleroderma Program in Ann Arbor, told Medscape Medical News.
However, this study found that nearly 50% of patients with ssSSc had interstitial lung disease (ILD) and associated cutaneous findings in patients with ssSSc with internal organ dysfunction, particularly diastolic heart dysfunction.
"The take-home message is that [ssSSc] is not that uncommon," he continued, "and more importantly for dermatologists, if they see somebody with sine scleroderma, they should not ignore the internal organ involvement that may be important and cause morbidity and mortality."
The study, led by first author Alain Lescoat, MD, PhD, from Rennes University Hospital in France, was published online today in JAMA Dermatology.
For the research, the investigators identified patients in the European Scleroderma Trials and Research (EUSTAR) database to compare skin manifestations and survival over time for ssSSc to the two other subtypes of SSc: diffuse cutaneous (dcSSc) and limited cutaneous (lcSSc). Of the more than 4200 patients included in the analysis, 8.8% (376) were classified as having ssSSc. These ssSSc patients were also compared with 708 patients with lcSSc and 708 patients with dcSSc.
Patients with ssSSc had a lower prevalence of past or current digital ulcers and pitting scars, compared with patients with dcSSc or lcSSC. Nearly two-thirds (63.8%) of ssSSc patients had puffy fingers, compared with 82.4% of lcSSc and 87.6% of dcSSc patients. The prevalence of ILD was somewhat closer between ssSSc and lcSSc (49.8% and 57.1%; P = .03), while ILD was present in three-fourths of those with dcSSc (75%; P < .001).
There were no significant differences in the prevalence of diastolic heart dysfunction (40%-45%) or scleroderma renal crisis (2%-5%) between the three disease subtypes. After up to 15 years of follow-up, survival was highest in patients with ssSSc (92.4%), compared with lcSSc (69.4%; P = .06) and dcSSc (55.5%; P < .001).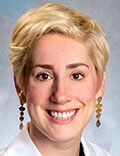 Dr Avery LaChance
"The study really underscores that even though there is a lower mortality rate [for ssSSc], there is still a high rate for internal findings of disease," said Avery LaChance, MD, MPH, the director of the Connective Tissue Diseases Clinic and assistant professor of dermatology at Brigham and Women's Hospital, Boston. She was not involved with the work.
"Being able to diagnose and detect these patients with systemic sclerosis —whether or not they have cutaneous fibrosis associated with their disease — is really crucial, so we can get patients plugged into care on the sooner than later side and improve patient outcomes," she told Medscape.
In addition to the 376 patients with consistent ssSSc, 184 patients who initially had no skin fibrosis went on to develop skin fibrosis. Most patients (n = 171) were then diagnosed with lcSSc, and 13 met the definition of dcSSc. The presence of anti–Scl-70 antibodies was the only independent factor associated with the onset of fibrosis (odds ratio (OR), 3.078; P = .02). Puffy fingers were not associated with the onset of fibrosis.
Understanding this association between anti–Scl-70 positivity and developing skin fibrosis can help dermatologists target who to monitor more closely, LaChance said.
The analysis also found that in patients with ssSSc, those with telangiectasia were nearly five times as likely to have diastolic heart dysfunction (OR, 4.78; P < .001). This indicates how skin manifestations can signal the onset of systemic disease manifestations, LaChance continued.
"It's really crucial that we, as dermatologists, keep a high index of suspicion in our clinics for this entity (ssSSc), and really familiarize ourselves with all of the cutaneous manifestations of systemic sclerosis beyond just cutaneous sclerosis," she said, "because early diagnosis can expedite necessary workup and treatment for underlying systemic manifestations of disease, and doing so can really improve patient outcomes. It can literally be the difference between life and death for some patients."
Khanna is a consultant to Boehringer Ingelheim, AstraZeneca, GlaxoSmithKline, Horizon, and Prometheus. LaChance is a principal investigator for a research grant from Pfizer looking at the role of the JAK/STAT pathway in connective tissue disease.
JAMA Dermatol. Published online June 28, 2023. Abstract
For more news, follow Medscape on Facebook, Twitter, Instagram, YouTube, and LinkedIn
Source: Read Full Article